Mold Removal Near Hillsboro, Portland, Vancouver, Salem
Local experts for mold treatment using proven products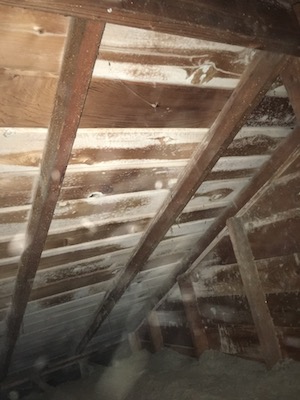 Mold removal requires experienced professionals in order to identify all existing mold and remove it safely.
Mold damages personal property and can seriously affect the health of many residents within a household -- especially those with asthma or allergies. A single square inch of drywall can contain between one and 10 million mold spores. It only takes three to five of those spores to cause a reaction in a sensitive individual.
Josh Lowe's Dr. Energy Saver is your local professional source for mold treatment. We can handle all your mold removal needs, no matter how severe the problem. Call us today to get a free estimate in Vancouver, Salem, Hillsboro, Portland and the surrounding areas.
Our Mold-X2 products are proven to remove mold
Mold-X2 Botanical features
Antimicrobial
Fungicide
Cleaner and deodorizer
All-natural formula
Josh Lowe's Dr. Energy Saver specializes in installing two types of Mold-X2. Different moldy areas require different types of treatment, and these products can handle mild and more aggressive mold. Our Mold-X2 Stain Remover cleans contaminated surfaces, including wood or masonry, in just 20 seconds. In order to prevent mold from growing back after using this product, the space must be kept dry and without humidity.
The other Mold-X2 product, called Mold-X2 Botanical, will help prevent mold from recurring on these types of building services. We recommend an application of our Stain Remover followed by our Botanical product to help make mold stay away. Furthermore, it's important to note that home ventilation is usually required after the application of Mold-X2 because of its odor.
We provide complete mold treatment in OR & Southwest WA
Mold spores & health issues
People at high risk from mold spore exposure:
Individuals with asthma or allergies
Individuals taking medication
Pregnant women
Children 6-12 years-old
Infants
At Josh Lowe's Dr. Energy Saver, we offer mold removal in the Oregon area, including Eugene, Salem, Hillsboro, Portland and surrounding areas.
If your home currently has mold or is at risk of developing it, we can help make your house dry, clean, and safe. We pride ourselves on our dedication to customer education, service, and our adherence to available national standards and best practices in indoor humidity control and mold removal.
Our experts are standing by to help you! If you've experienced mold issues, our team can get your home back to normal fast. To learn more about the cost of mold treatment, call us at 1-855-302-7446 to request a free estimate today!
Looking for a price? Get a no cost, no obligation free estimate.